Livestock death toll exeeds 6 million
As of April 6, 2010, 6 million 69 thousand 699 heads of livestock perished nationwide due to this year disastrous zud, announced the Ministry of Food, Agriculture and Light Industry.
---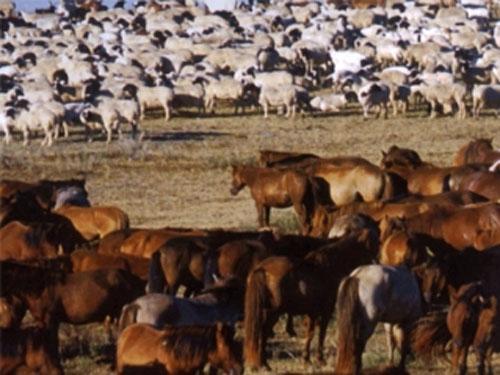 As of April 6, 2010, 6 million 69 thousand 699 heads of livestock perished nationwide due to this year disastrous zud, announced the Ministry of Food, Agriculture and Light Industry.
According to the ministry, out of the 6 million 69 thousand 699 heads of livestock who perished, 533,648 were animals such as cattle, horses, and cames. The rest, approximately 5.5 million, were belonging to the small category such as goat and sheep.
Mongolia's 2nd contingent dispatched
to Afghanistan
Defence Minister Luvsanvandan Bold met with NATO's Deputy Secretary General, Ambassador Claudio Bisogniero, at NATO Headquarters at the end of March to mark the formal recognition of Mongolia's contribution to the International Security Assistance Force (ISAF) as the country has become the latest nation to contribute troops to the NATO-led mission in Afghanistan.
Mongolia has already deployed an infantry platoon in ISAF's Regional Command North, says NATO, while this Wednesday saw an officially ceremony taking place to see off the 2nd contingent of Mongolian troops to participate to the peacekeeping mission.
Among those present at the ceremony were Deputy Minister of Defence S. Baasankhuu and Chief of the General Headquarters of the Armed Forces, Lieutenant General Ts. Byambajav.
Some 120 troops will be deployed to Afghanistan this April 9 for a period of six months' duty while 23 will be on training missions with the Afghan National Army.
As a Troop Contributing Nation, Mongolia will be invited to join the informal Foreign ministerial Meeting in ISAF format which will be held in Tallinn on April 23 this year.
Mongolia becomes the 45th nation to contribute troops to the NATO-led mission in Afghanistan.
Car drives into CM protesters' ger
A Toyota Land Cruiser has been reported to have injured several protesters participating to the sit-down demonstration organized by the Civil Movement on Sukhbaatar square since this Monday.
According to the Director of the General Police Department's Information and Press Center Colonel T. Sainjargal, Wednesday morning at 5.18 am, a dark-green "Toyota Land Cruiser-80" jeep with a plate number UBM-01-40 drove into a ger inside which were gathered protesters, injuring several.
The driver of the vehicle has been named as M. Mashbat, 48 years old. It was revealed that M. Mashbat suffers from mental illness and is constantly undergoing medical check up and control. On April 5, he was released from a mental health institute where he had been treated for 17 days. Despite his illness, Mashbat possesses a "B" class driving license.
Just before the incident, eight traffic policemen in four cars and six policemen from the Metropolitan Police Department were patrolling the square but failed to stop the car as they were not ready to face such an unpredicted and surprising act.
A total of 17 people were in the ger at the time and 51 people outside. Six people were injured and immediately taken to the Traumatology Center. A diagnostic about their health has yet to be issued.
Meanwhile, the offender is being investigated to establish whether or not he has a legal responsibility in the incident. Yo. Ichinnorov, a member of the Civil Movement, said he was heard shouting "I will take revenge from Uyanga," a leader of the Civil Movement.
A criminal case has been opened by the State Inspection Agency's section for organized crimes investigation. During the investigation, it was discovered that the jeep belongs to Mashbat's groom D. Ranjin.
2011 shortage expected to keep
copper price up
Rio Tinto is expanding mines in Chile, Indonesia and Mongolia, and according to the company's copper unit chief, a decline in prices for the metal seems unlikely as limited supplies from mines exacerbate a shortage next year.
Though declining to give a forecast, Andrew Harding, head of the business, have been reported to have said earlier this week in an interview in Santiago that it would be hard to imagine what would cause a collapse in the copper price as there are little new stories "out there" from a supply point of view.
China, the world's biggest buyer of copper, boosts purchases of the metal used in cables and electric wire and according to him, supply and demand will be "in balance" in 2010, with a shortage coming in 2011 as U.S. and European demand also rises, he said.
Copper climbed to a 20-month high 2 days ago on Chinese demand and as investors bought futures to hedge against a weaker dollar. The price more than doubled last year as the economy recovered from the global recession.
Prices may continue to gain on a lack of investment in new mines and "the corporate world is coming around to the idea that this is going to be a long-term stable market," said Bart Melek, a commodity strategist at BMO Capital Markets.
The rise in copper prices comes as executives and bankers meet this week at the World Copper Conference in Santiago.
Copper futures for May delivery fell 1.45%, or 0.4%, to usd3.617 a pound on the Comex in New York. Earlier, the price touched usd3.6385, the highest level for a most-active contract since Aug. 1, 2008.
Harding said he is "very confident" Rio Tinto will start the usd4 billion Oyu Tolgoi copper project in Mongolia in 2013, after securing a permit to develop the mine at the end of March.
The new mine will take five years to reach full capacity of 450,000 metric tons of copper a year, Rio said in a March 31 statement.
Mongolia's government owns 34% of the project, while Ivanhoe Mines Ltd. holds the rest. Rio will have an indirect stake in the project through its holdings in Ivanhoe.
Overall metals demand will double in the next 15 to 20 years, fueled by China, Rio Chief Economist Vivek Tulpule said in a presentation posted on the company's Web site yesterday.
---